There are barns and there are barn doors.  And then there are doors made from barns.
In Westford, I remember making the first set of downstairs doors on the day the carpet installer was there. I made them out of cedar left over from the living room ceiling.  A few years later, I made cherry raised panel and louvered doors for the upstairs. Later still, when I built the Cave in the basement, Mary and Bill gifted me a set of doors made out of reclaimed oak. Custom doors can be a woodworker's way to make a house personal, and nothing says "Not from Lowes" like the click you get when you close a heavy, solid, hand-made door. When we moved, Mary insisted that we bring the Cave's oak doors with us, and I replaced them with cheap pre-hung doors from Home Depot. What a difference: 5/8″ jambs, screws in masonite, and that cheap, hollow sound. Ugh! In the new house, we'll be making our own doors. Out of wood reclaimed from the chicken wing of the barn.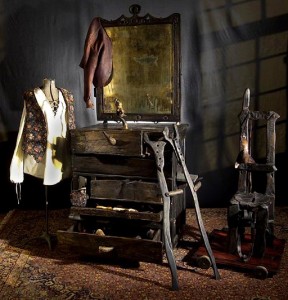 A few years ago,  we went to visit Frank in Garnerville, and he had an Art installation in his studio. It was presented as the desk of a working artisan in medieval Europe, and it was really good. The handles and drawer slides all looked more worn than the rest, and the cracks and wobbly fits and the patina of the pieces made it look convincingly old. I came away believing the signage that claimed it was a 400 year old desk. Frank is good.
And that's how I want our doors to look when they're done. With the same depth of old, old color, so the knots look like muscles flexing within the wood and the parts you touch glistening from years of dirty hands.  And if there's anyone who can make this happen, it's Mary. I gave her 56 sanded door timbers for pre-finishing and there's about that many more 9-footers prepped for jambs.
All this prep work was done in the shop-in-a-barn I set up last summer, but with winter setting in, I've got to get a shop set up in the new basement before I can work on the doors, and I'd really like to be able to lock the (store-bought exterior) doors before I move my tools over. So when the doors and windows went in, I figured it was a no-brainer that we would go to Home Depot and buy some doorknobs. Well that idea fell flat with the Missus, who claimed that sheetrock dust would scratch them up. We decided to go cheap.
But even cheap ain't cheap when you've got 7 doors to lock. I bought an ugly lockset for the basement, some deadbolts for the back doors and an $8 keyed knob from Family Dollar, but that still left 6 pre-drilled holes to fill.
My tools were stored in Chuck, which is across the lawn from the barn, and I strung a couple extension cords (taut) between the barn and Chuck, and bandsawed some tapered bungs out of 2×4's to seal off the rest of the holes. They're crude but they keep the cold air out, and my craftsmanship has no place to go but up.