Are you thinking to yourself:
"Is that all you did last summer? Work? Didn't you have any fun at all?"
Of course we did!
The Big Gun
We've got 5 guns and 2 people in the house, and that's still below average for Vermont.
The only time I shot one of them (the guns, not the people) was when a disoriented ground hog in Westford was staggering in circles across the lawn. He collapsed in front of me before I could get a shot off, but I shot him anyway. Twice. Three of our guns are Mary's, and since I had no idea how to shoot them, I took them into town one day and asked.
Two of them are your basic good quality, good condition, common rifles. The 3rd is a Winchester model 1910 .401 ga, with a scope and a low serial number. The guy at the guns 'n' tackle shop told me not to shoot it, clean it, or scratch it, because it's valuable. Of course that's a lot like telling me not to put gutters on the house, but it helps that you can't seem to buy bullets except from ammunition collectors, so it'll be a long time before I find out for myself whether it's worthy of  the nickname 'The Hammer of Thor.'

The Fish Ladder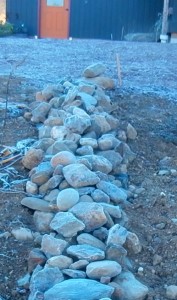 When I buried the drainage pipe for the front garden and gutter runoff, the pipe poked out of the ground near the top of a slope. The first time it rained, the runoff trickled out of the pipe and down the hill, carving the beginnings of a  channel down the hillside. I didn't want to have a lot of uncontrolled erosion over there, so I scraped out a channel, lined it with fabric and rocks and, when we mulch and plant on either side of it, it'll make a nice accent.
If you have any fish-shaped rocks laying around, send them my way, because we call this 'the fish ladder.'
 Auctions
I went to 2 auctions this summer, where lots of tools and equipment were on sale.
I'd bought our trailer at auction when we moved and, while I got it cheap, it needed work and in the end, it was "less of a good deal" than it seemed at the time. So when I go to auctions now, I make it my mantra to ask: Do I need this cool stuff?
At the first auction, there were about 300 lots of small-to-medium tools and some restaurant stuff. I thought most of the bids were kind of high for me, but stuck around to watch. Toward the end, interest had dropped off and people had left, and Lot #292 came up: a pallet of 3 hydraulic pumps. Nobody was bidding on them, so I bid $50 and won. I haven't done anything with them yet, but I have the itch.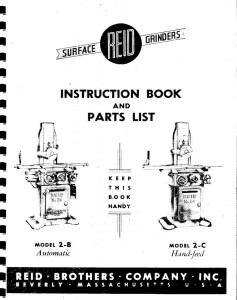 The second auction was a metal fabricator selling his shop. Lots and lots of Olde Tyme Big Iron tools and everything it takes to run them, and not a computer in sight. I've always wanted a surface grinder, and they had a beauty for sale. Made by the Reid Bros Manufacturing company, no less, with 'REID' cast right into the cabinet stand door. Obviously, I've got to have this machine, which goes for $6k and up nowadays on the black market, but I stopped bidding at $500 and it sold for $650. It's probably a good thing, because I would have had to get it home and -honestly- I'm not sure I need it.
His and Hers Compost Piles
All year long, I worked in the shop, making sawdust. Occasionally, the shop would get too dirty, even for me, and I would box up the kindling, bag up the sawdust, and bring everything else to the dump. I kind of envisioned that, when we finally put in a vegetable garden, the sawdust could be tilled into the soil, so I just kept accumulating bags of it. They say, though, that sawdust robs the soil of nitrogen if you don't compost it first, and I knew that if my sawdust ruined a season's harvest in Mary's vegetable garden, I'd never hear the end of it.
(In Westford one year, I piled my sawdust near the house and mixed in a whole bag of ammonium nitrate to help it decompose. I smelled ammonia through the foundation all winter long, and the soil was barren for 2 years. This is not a good plan.)
So I had all this sawdust on my hands, and no real plan for it.
Meanwhile, we are very anal  diligent about separating our trash into compostable, recyclable, and throw-outable piles. When the compost bowl by the sink gets full, it gets emptied into the 5-gallon pail in the garage. When the pail in the garage gets full, we start a new pail. When we run out of pails, … well, we really didn't have a plan for that.

We ran out of pails right about the time the sawdust had to be moved, so I decided to make a compost pile. I've never been very successful with composting: the pile never heats up enough to kill the weeds, it smells, and if you keep adding to it while it simmers, it never gets fully decomposed. So this time, I figured we'd pay attention to the brown/green ratio, and build 2 piles: one to decompose to completion without adding to it, and the other to accumulate fresh cuttings.
The jury is still out on whether it's working or not, but the temperature got to 110 degrees before I re-mixed it. It's a good sign, but I think I'll have to do better than that.
Next year.

Storage
The garage was a shit show, and if we're going to be parking inside this winter, it had to be cleaned up. There were piles of stuff everywhere and it seemed to me that, since the cars had to go on the floor, maybe some of this stuff would be better off on the walls? (or thrown out)
So I tidied up and organized one wall into a bench/shelving/storage area.
It's a big improvement, and there are still 2 walls to go.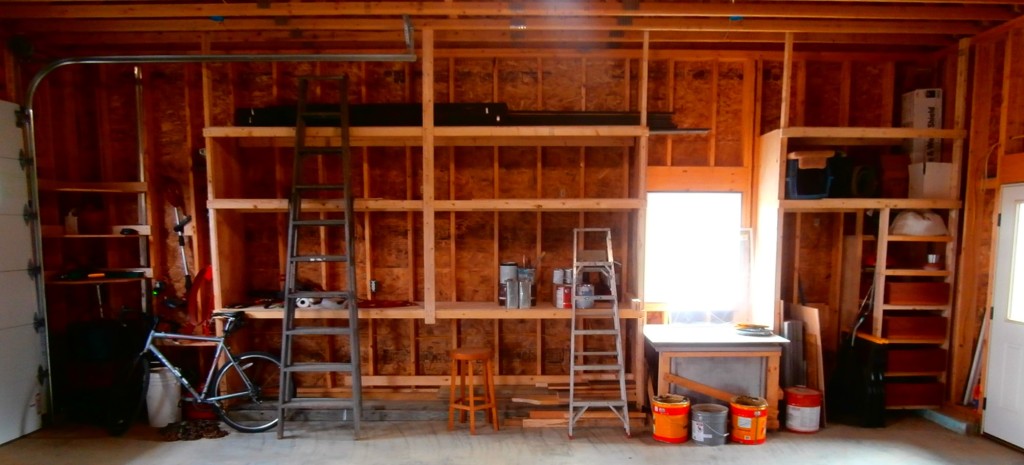 Apples
There was a peculiar combination of weather patterns this year that led to an abundant apple crop statewide, including ours.  We'd known we had apples on the property, but never paid them much attention because they weren't near the house, the brush around them is always overgrown, and the fruits are mostly too high up to pick easily. But now that we live on the back of the property, everywhere we looked in September, there were branches heavy with fruit. I started to wonder if there wasn't something we could do with them.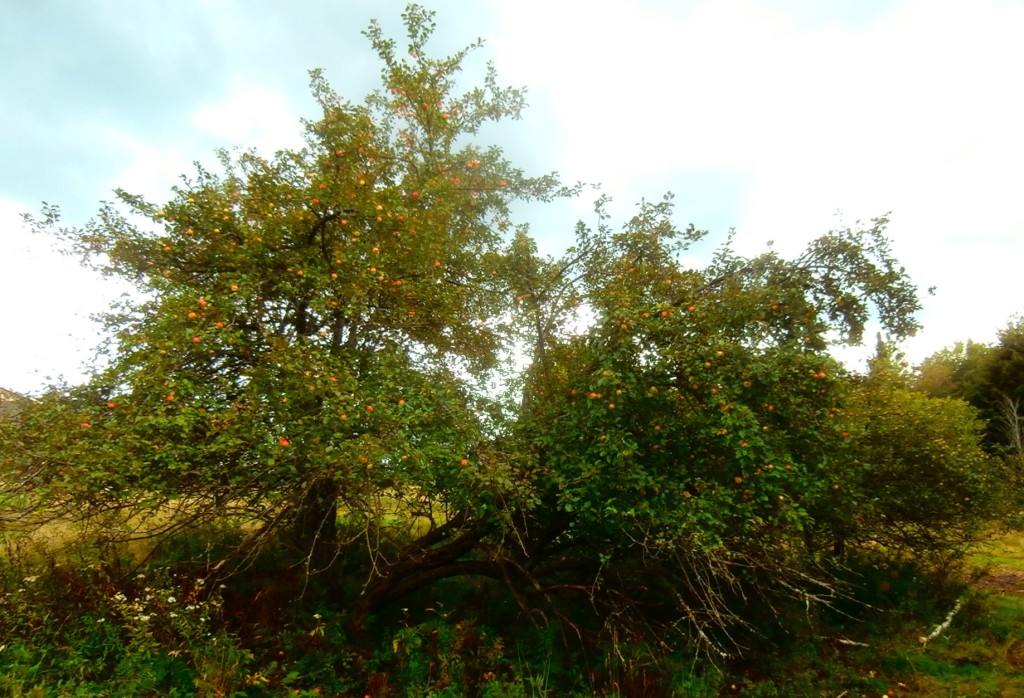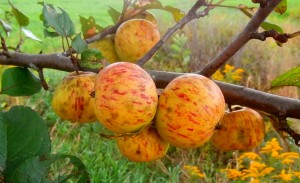 For a start, I tried to count the trees and found about 2 dozen of them (and another, it seemed, every time I went outside). Red ones, green ones, yellow, brown and pink ones. Solid, striped, shaded and stippled. Big and small, round and irregular. Sweet and sour, early and late. And all of them on full-sized, gnarly trees in need of pruning. Thousands and thousands and thousands of apples. It was amazing.
When we rented the cherry picker to finish the painting and the gutters, I'd hoped to use it to pick a couple of tall trees, but it needed to be plugged in to keep the hydraulics working and the closest trees are further than my extension cords would go. Plus, my trailer back-up skills on wet, uneven ground are lacking. So I picked what I could with a 10′ stepladder and -believe me- it is the wrong tool for the job.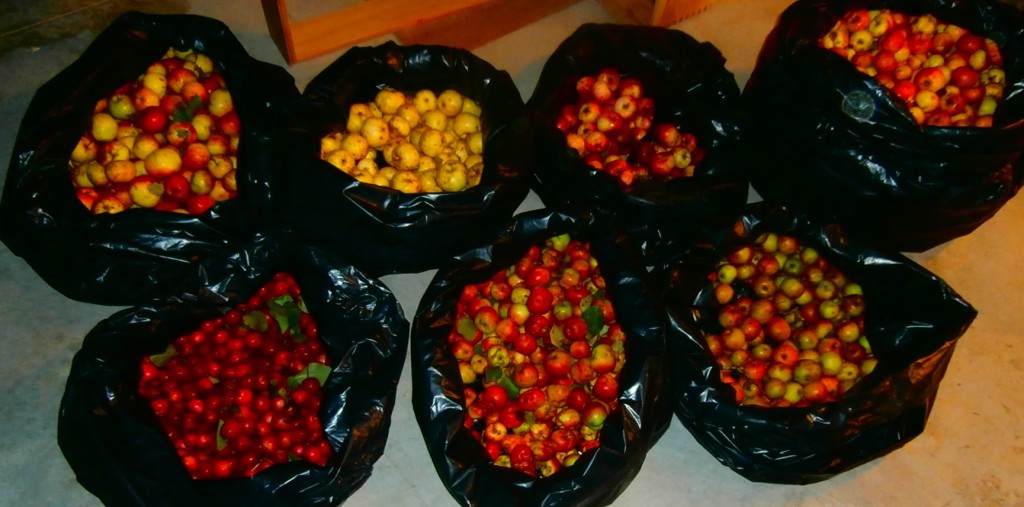 We made lots of apple jelly and applesauce. And chutney and butter and gift bags and then we composted more than a few. The deer got fat on them, and I berated myself for throwing out my home-made cider press last year.

If I only had a hydraulic pump, I thought to myself, I could make a Real press next year ….
Spilled Gravel
With the gutters and gardens in good shape, it was time to spread some gravel around the ellipse in the north yard so I can drive up to the shop door without tracking in mud.
I had two 15 yard loads delivered and started spreading it with the tractor.
This is not as simple as it sounds, and after spreading gravel for a couple hours, you hurt. So after a couple hours, I was looking for an easier way, and I drove the tractor across the side of one of the big piles toward a hard-to-reach spot.
In the beer commercial, "It's not weird if it works."
In my backyard, "it's only stupid when it doesn't."
I guess I had the load of gravel raised a little too high, and I might have been going a little too fast. But when the tractor started tipping, I didn't stick around to make any adjustments. I jumped clear and landed running.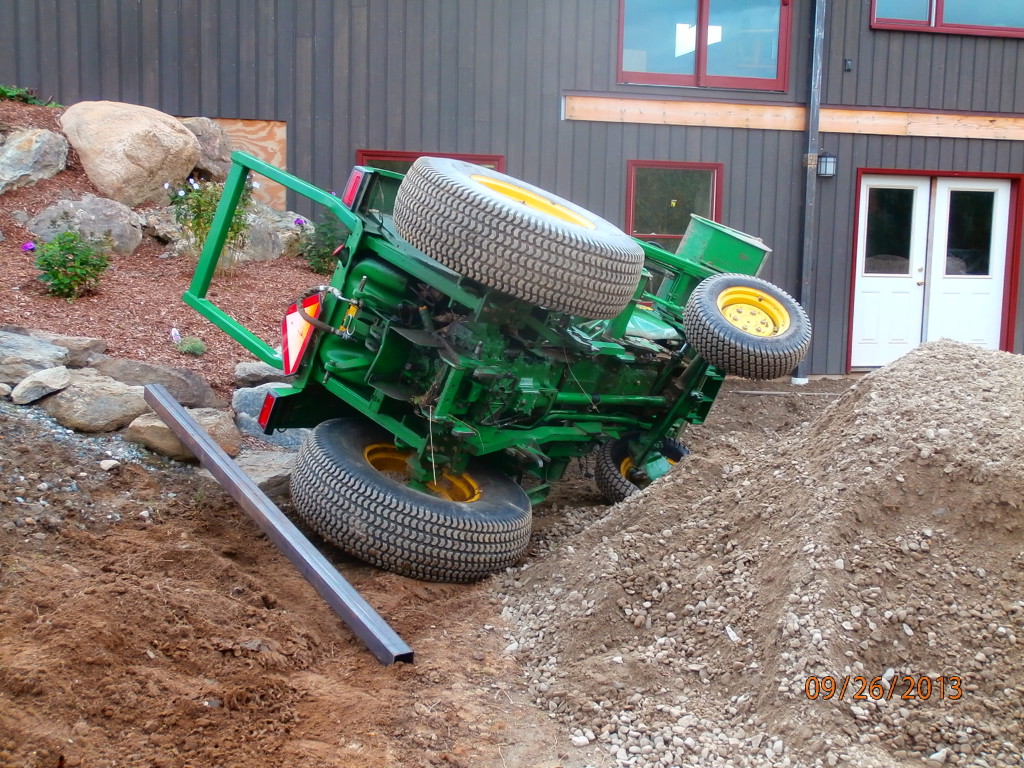 I clamped some steel onto the ROPS for leverage and chained it to the Tahoe's trailer hitch. Mary pulled forward and the tractor righted itself. No problem!
Bark
Last year, when we were planning the siding for the house, Mary decided she couldn't live without bark. I was not thrilled, but we compromised with a plan to use it as an accent on the front and back porches.
I trimmed it with the last of the 2×6 barn boards and some reclaimed oak left over from a door project in NYC.  Working mostly when the weather was bad, I finally got it installed, and it has a nice look.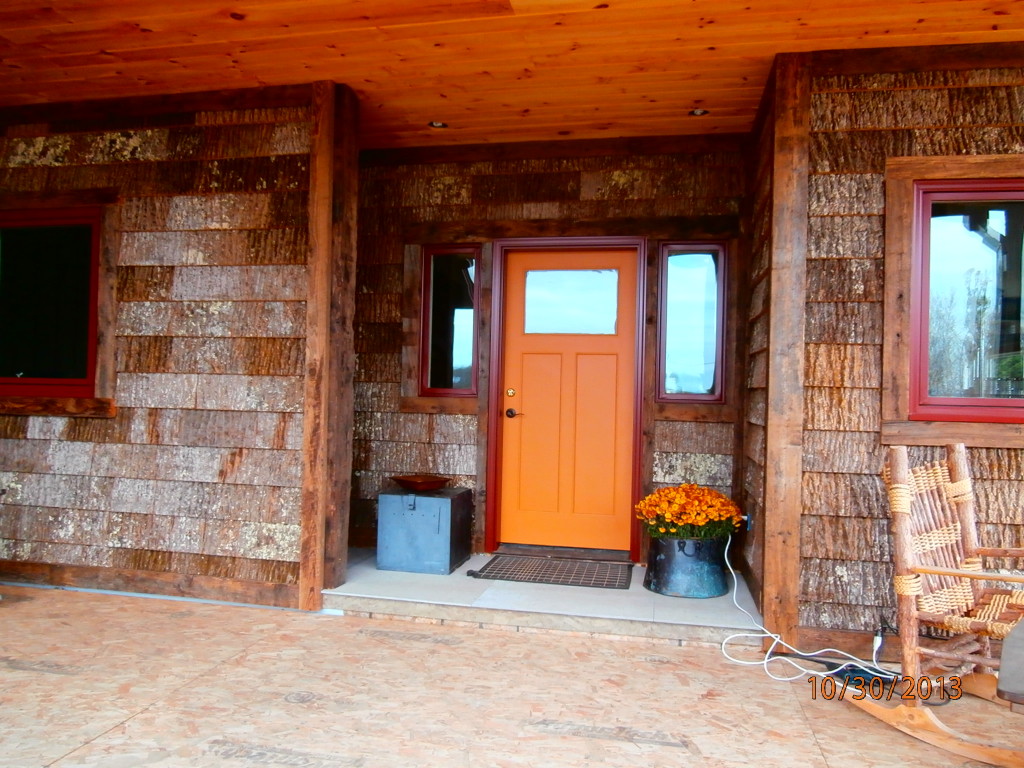 Conflagration!
When we decided to sell Westford and move, the first thing we did was to gut part of the Green house to save the beams and the original flooring. We filled off a roll-off box with debris and carted all the wood to a burn pile in the swale. We never got around to setting it afire, but we kept adding to it whenever we did work on the barn or the new house, or cleaned up brush in the fields. After 18 months of that, the pile was more than 8′ high and 20′ wide at the base.

We got a burn permit and told the fire department not to panic if they saw smoke coming from our road. We connected enough hoses to reach around to the back of the pile, baptized the it with some diesel fuel, lit it, and backed away.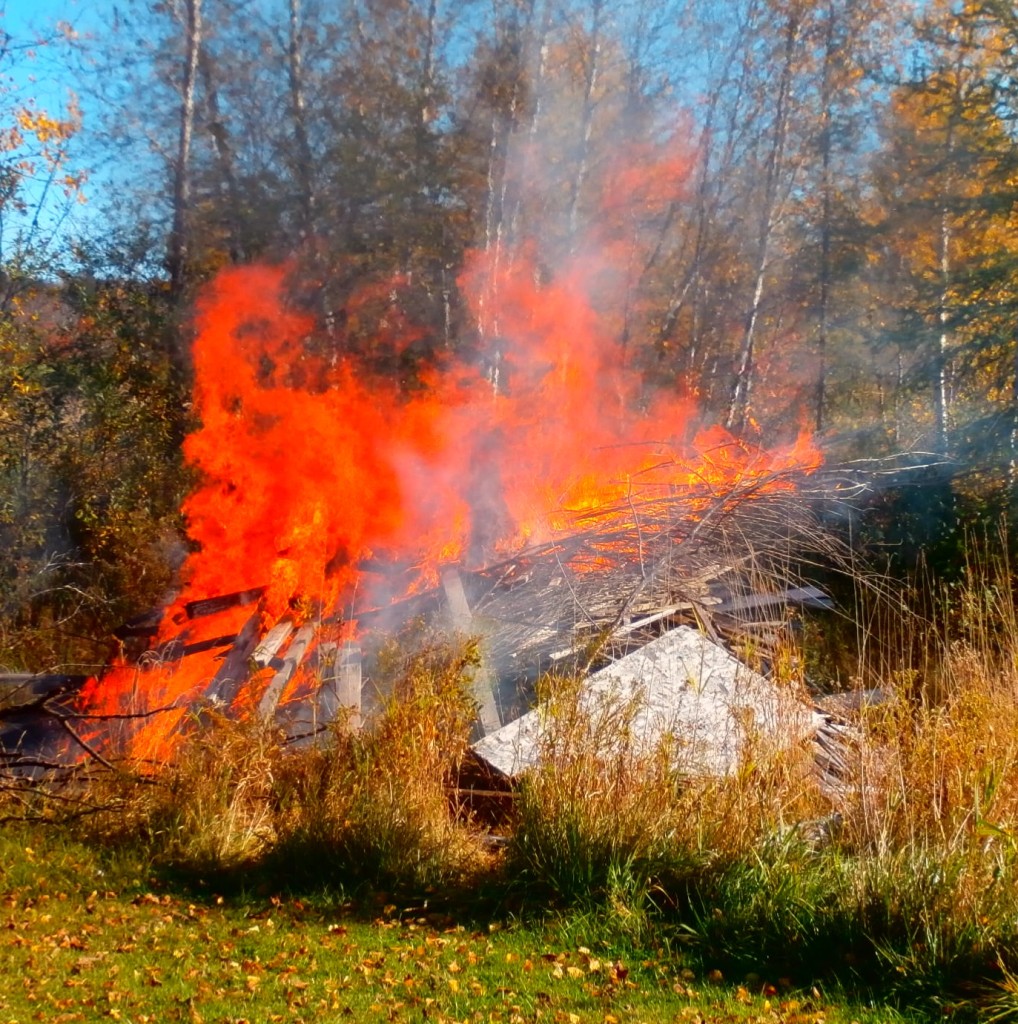 When a pile of that size gets going, a garden hose isn't very helpful, but I'd still rather have one than not.  A pile of wet wood 30′ from the fire got hot and burned itself down. And even after the flames died back, the heat of the coals made it hard to get close enough to throw more brush onto the pile.
In the end, it stayed contained and after a few days, when the scorched earth had cooled, I scraped the site, buried the nails, and we'll probably do it again in a few years.
 The Sandbox Garden
Mary puts up with a lot.
In 2012, she had a scaled-back vegetable garden planted at the green house, and then they dug a trench for the well water, right through the middle of it.
In 2013, there was no garden at the new house. Unless you count the brand-new (but empty) flower gardens that I was building at a rate of about 1-a-month.
In 2014, I was informed, she wanted a vegetable garden.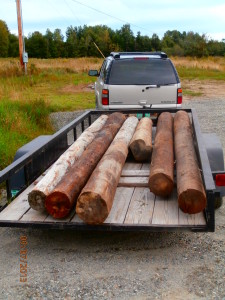 The plan was to till the area where the bulldozer guy had said he'd piled up 18″ of topsoil. But wherever we dug, it was clay 2″ down.  In Westford, everything is clay too, and we gardened in raised beds, ringed by RR ties and filled with really nice compost-y dirt. But RR ties rot, especially when you start with the worn out ones removed from the tracks. A guy up the road is a lineman and told us we can get free telephone poles from the electric company. I figured a 16′ pole would weigh twice as much as 2 8′ RR ties, so they'd be easy enough to jockey into the trailer, but it turns out that telephone poles, like giraffes, are waaay sturdier close up than they look from a distance, and they could barely be budged. Luckily, Mary had come with me to the bone yard and, with me doing the heavy lifting, and her rolling the fulcrums into place, we managed to make off with several sturdy specimens.
I maneuvered them into place and we weeded the enclosure. We brought 2 dozen loads of soil up from the Big Pile and splurged on a truckload of compost, which we tilled in with a big rented rototiller. It's about 500sf of really nice, deep, organic soil, and we've got 90 garlics planted in the corner. Ready for spring.