Mon 7/1
bought oil for tractor, bulbs, groceries. took off backhoe and got tractor up onto driveway. EMC. cut grooves for 1st door.
Tue 7/2
set up and grooved 3 doors. worked with fairpoint guy for internet service.
Wed 7/3
finished up with fairpoint guy. groceries, gun shop, screws. installed more shelves. grooved 2 more doors. debugged ashton's trailer.
Thu 7/4
waffles. installed last of shelving.
Fri 7/5
milled splines for doors. burlington errands. dinner out
Sat 7/6
plugged away at shelving. cut up scrap wood for campfires. trial assembly of a door slab. worked on tractor. campfire.
Sun 7/7
slider screen. door assembly
Mon 7/8
fixed mower. fixed tractor. met cheryl. excavator with ashton: roughed out south and west sides
Tue 7/9
day 2 of excavation. roughed out north side. ashton dug out dirt and I piled it up. tractor problem traced to intermittent solenoid fuse
Wed 7/10
dug daylight trenches. extended rock wall on west. broke chain saw felling trees near rock pile. dinner at celias.
Thu 7/11
worked with Ashton: laid drainage pipes, gravel, fabric in trenches, fixed clogged fuel screen in tractor, dug out front entry. hauled rocks out of woods.
Fri 7/12
spread and raked topsoil. gravel+stone at front porch. g&s at back porch and path to garage and trailer park. raked west side. hurt my back in the shower.
Sat 7/13
several stops in town. replaced oval drain under south valley. put on bernard's york rake. raked rocks with Mary. rebuilt stone row to create triangle garden. tara chased BZ up a tree.
Sun 7/14
moved front dirt pile to north pile. fixed tractor necker's knob. replaced clay in triangle garden. mined rocks with excavator. placed  large rocks.
Mon 7/15
rodeo'd around picking up rocks and york raked. Mary planted grass and mulched with hay. did calculations for ellipse garden.
Tue 7/16
string trimmed ellipse and apple tree. staked out ellipse and spaded outline. trimmed dirt back to actual outline. installed all drawer slides onto cabinets.
Wed 7/17
came up with a plan for pivoting downspouts. mined 5 loads of rocks. put on backhoe. dug out for ellipse gravel base.
severe thunderstorms and got to watch the water pouring off the roof onto the new landscape.
Thu 7/18
picked thru barn wood pile and moved pieces for front porch. Moved them into garage for drying. Built 1/4 of base layer of ellipse wall. spread dirt around propane tank. spread dirt around front yard big rock. set some rocks in front walkway. went to Noyes museum open house.
Fri 7/19
tendonitis in left wrist. buried pipe from house to ellipse. mined rocks. fixed wheelbarrow. rearranged my office.
Sat 7/20
glued up part of a door. chain sawed big clump of trees. re-set flat rock in front. built quarter-circle garden. worked on gutter problem.
Sun 7/21
Not a thing. went to cheesemakers festival in shelburne.
Mon 7/22
got gravel. glued doors. called gutter guy. debugged lawn mower. 40% or ellipse base layer
Tue 7/23
glued doors. made handle for bifold door.
Wed 7/24
glued doors. errands in town. met with gutter guy: $4500. fixed lawn mower
Thu 7/25
glued doors. cut a mineral to embed in bifold handle. went to auction: bought 3 hydraulic pumps. extended rock row at entry.
Fri 7/26
placed 6 more rocks at path to front door. scooped piles of dirt. blueberry picking.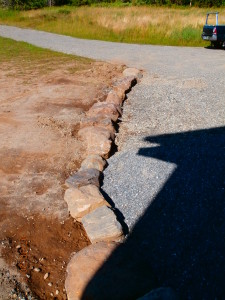 Sat 7/27
swapped out broken doorknob. got more hay. finished base layer of ellipse. collected raked rock piles. Mary raked and seeded grass
Sun 7/28
made blueberry jam with Mary. hauled brush into piles to be burned. Mary raked and spread grass seed.
Mon 7/29
met with criscolo and appraiser in westford. worked on Marshall's door handle. made salad for dinner at Adam's. Dinner party in burlington.
Tue 7/30
finished door handle for bifold door, including setting the stone. Set some large rocks in oval. set end stone at entry. placed 2 rocks for front garden.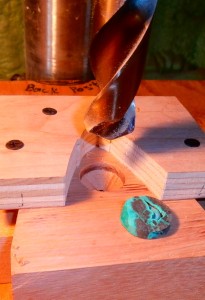 Wed 7/31
weeded front garden. assigned barn wood for front porch.